Seeing as you all loved our previous blog post on our top fonts for the year, I thought it was about time we put another one together. So without further ado, here are the best free fonts which we will be using throughout the year.
I have even included links to directly download the fonts, so you can start using them within your work today!
1. Akrobat
A strong, timely classic. This is a great font for headlines, logos and short paragraphs of text. Essentially, it is an updated 'Modern Sans Serif' font with condensed proportions. It is available in 8 weights and a wide range of languages.
2. Wild Youth
A beautifully hand drawn brush script which really reflects the great outdoors, and has a sense of adventure surrounding it. This font would be perfect for quotes on social media, and would also look great on clothing.
3. Delicia Melted
Even the name of this font just sounds great! And the fact that I managed to find an image that looks ice-cream coloured is an added bonus! The font was originally designed for the Mexican Museum of Chocolate (hence 'melted'). This would look great for any food-related branding though.
4. Somatic
Somatic is a much simpler font, created by a talented designer and illustrator based in New York. It has a simple structure, with nicely rounded edges – I could really see this being used for a logo, aimed at a younger audience.
5. Inkferno
Onto number 5, halfway there! Inspired by a modern classy style, Inkerno represents both the minimalism and the luxury that is provided by the semi-serif typeface. This font would be ideal as a heading or logo font, particularly with its defining features and the funky 'kicks' that you can see. Personally, I quite like the ballet dancer poised in the background too!
6. Decalotype
Decalotype is a much more versatile font and is suitable for a wide variety of uses. It is narrow, with a sturdy sans serif design and is available in a huge 14 different styles! A good all-rounder I would say.
7. Casual
Bold name, but you can really see why (no it isn't the mountain backdrop that makes it more casual!). It just feels, sort of floaty – the flicks and varying weights throughout the font, much like calligraphy. I could definitely imagine using this font for an up-market fashion brand.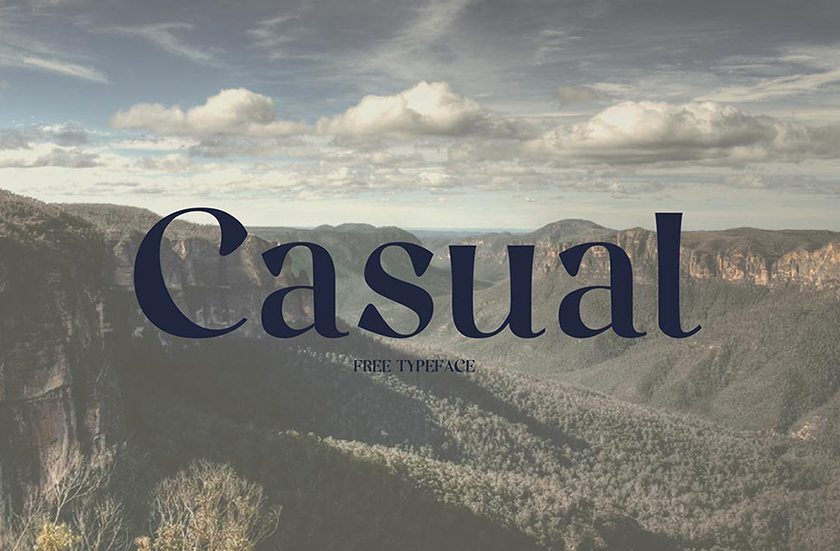 Download Casual
8. Buffalo
No, we don't mean the animal. This American-looking font is very loopy and quirky, with a real vintage feel about it. Buffalo would be a great font to use for branding and promotional projects.
9. Setta
The penultimate font we think is one of the best for 2017 is Setta. It is a new, modern calligraphy typeface which looks beautiful and elegant at the same time. This would look fantastic on greeting cards, clothing branding, or any design that needs a personal touch.
10. Aruna
Saving the best until last – here is Aruna. I am a big fan of the leafy background, as well as the actual font. Aruna comes in 6 different weights, and is a modern font with unique, rounded serifs. this would be great to be used in both logo design and typography.
So there you have it, the top 10 fonts for 2017. I would love to hear your favourites and any cool fonts that I have missed. A bit of an upgrade since our last '20 must have fonts for designers'!