Social Media is all around us, and has become a part of our everyday routine. How many of you check out your Facebook timeline and Twitter feed before you even get out of bed in the morning? I know I am guilty!
Think about this from a business perspective. You can reach current and potential customers at the touch of a button, and not just locally – worldwide too. You can build relationships by regularly interacting with your customers, at the same time as increasing brand loyalty and awareness. With this amazing, easily accessible tool, there are no excuses. Get your social media marketing campaign off the ground now!
Top 5 reasons you should be utilising social media marketing
1. Increased traffic
As long as you are encouraging people to visit your website from your social media posts, the traffic should flow. With such large audiences on social media, this captive audience can help you reach your business goals quicker.
2. SEO
Driving traffic to your website will ultimately let the search engine crawlers know that people are engaging with your website, so will rank it higher. If you have lots of social shares, Google will favour this.
3. Engagement
If you are carrying out social media marketing properly, you will be building relationships with your customers. Interaction is key – posting interesting, relevant content, ultimately growing brand advocates.
4. Branding
This is vital to get right. Yes, social media is a huge platform with lots of traffic, but it is essential your pages reflect your company branding and ethos. You are creating a voice for your brand.
5. Targeting
Advertising on social media is so important. We can now target users by things such as location, industry and even the pages they have liked! Remarketing is also an excellent way to convert users who visit your social media pages, into sales on your website.
Did you see the Worldwide Breast Cancer campaign last month? It is amazing how something so simple can go viral and get the message out there! #KnowYourLemons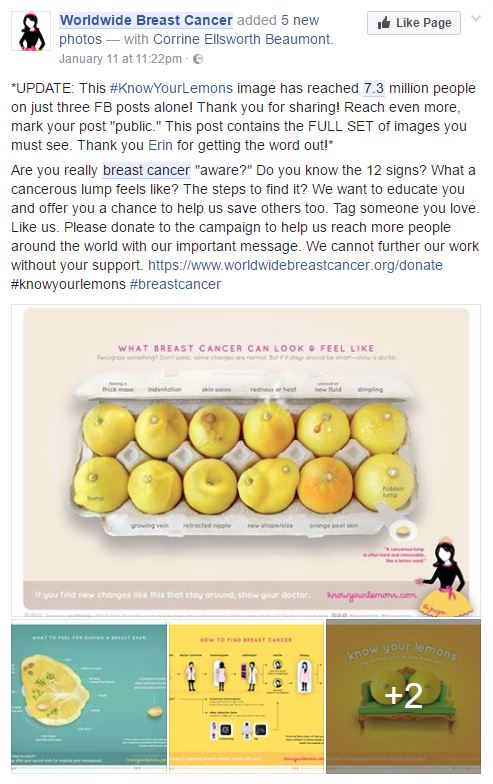 What should I be doing?
Video marketing is becoming huge already this year. With that average user watching 32 videos a month, you can see why! Facebook Live videos are great at increasing brand awareness. Their algorithm actually favours these live videos, and will promote them during the live stream. So all you need to do is create an engaging video that your audience will love, and Facebook will do the rest – broadcasting it to thousands!
Did you see the most viewed Facebook live video, where there was a balloon being blown up as the comments on the video increased? Yes, it was random – but with over 69 comments per second, it quickly went viral! This is just a small example of the scope of Facebook Live, using it to engage with your audience.
We can help!
If you are looking to engage more with your audience, we are on hand to help. With our extensive knowledge of social media, we can also provide you with the training you need to make your brand stand out.
Call us now on  01472 878 496 or email us on [email]office@laser.red[/email]