We're looking for an SEO Executive to join our marketing team.
If you have a real passion for SEO, staying ahead of the latest trends and helping clients climb through SERPs this role could be for you.
Job Types: Full-time, Permanent
Salary: £27,000 – £30,000 + Bonuses and commission
Location: Grimsby/Lincoln/Remote
The role:
As an SEO Executive, you'll showcase your expertise through innovative ideas, high-quality work, and a deep understanding of SEO strategy, technical aspects, and business processes. In client meetings, you'll be engaging and reliable, providing support and driving new ideas.
You'll prioritise top-quality service, explore advanced SEO methods, and manage communication, time, and tasks for select clients. Strong communication, teamwork, and time management skills are essential for success in this role. SEO is your passion, and you bring a formidable skillset to the table!
Apply for this role
Who are we?
Laser Red is an innovative digital agency, focused on helping established business
perform better online through creative design, efficient development and objective lead
marketing, which delivers value and results that make a difference to our clients.
We are a kind, caring, and passionate team of people who value hard work, dedication to
finding solutions and delivering exceptional customer satisfaction. We believe in the
power of collaboration, personal growth and continuous learning to ensure we're
keeping ahead of the click and creating work that we can be proud of.
Apply for this role
The successful candidate will have a passion for all things SEO. They will be continuously ahead of the ever changing organic landscape, have an advanced understanding of technical aspects of SEO and demonstrate this through tangible results.
Responsibilities
Within this role, some of the key areas you will be responsible for are:
Ensuring client's objectives and workflows are completed to time and on budget
Completing on and off site organic marketing for your client list
Research, write and publish a range of organic content from whitepapers to blogs
and everything in between
Facilitating cross-team collaboration, sharing techniques and knowledge and
optimising the way we work together
Apply now
Generate incredible results for your clients by implementing modern SEO
methods that keep us 'Ahead of the Click'
Be a team player and actively help those around you
Continuously look at ways we can help improve our marketing for clients and our
own business
Reporting to a range of stakeholders across multiple business sectors in a
professional and confident manner
Be aware and ahead of the changing SEO landscape and apply new methods to
your clients sites
Increase your client portfolio by pitching to both existing and new business by
demonstrating your knowledge of organic marketing while having an awareness
for all marketing channels which could benefit your client
The successful candidate will need to have the patience and understanding of what it takes to generate amazing results for clients and have the ability to upskill continuously.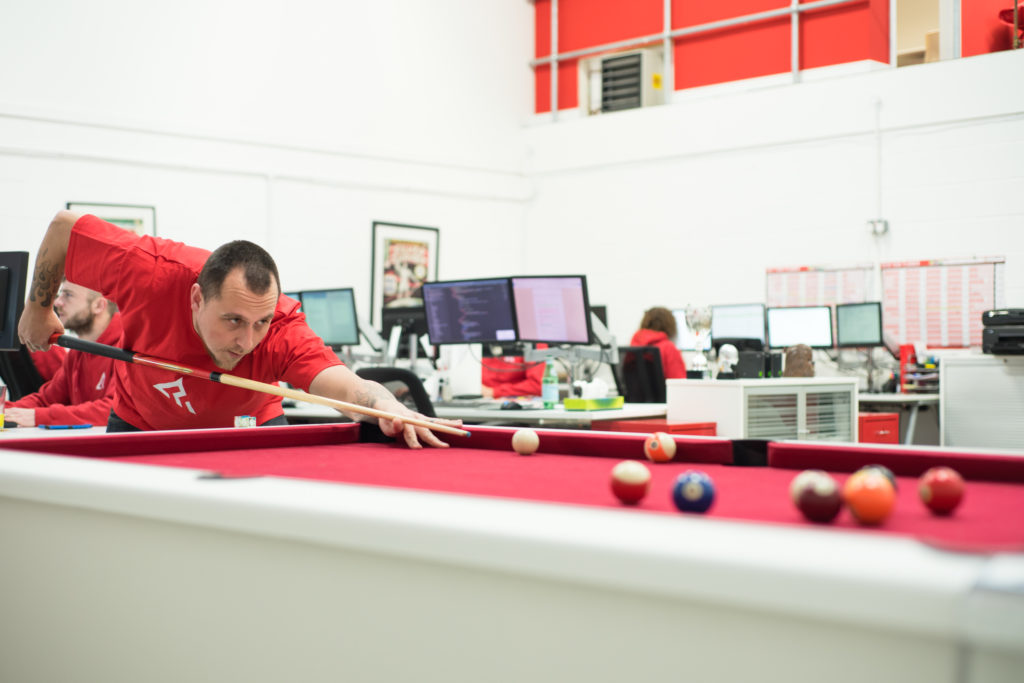 Knowledge & Experience
To be successful in this role you will possess the following:
Essential
5+ years of experience in an SEO role.
3+ years of agency experience.
Strong organisational skills, with the ability to manage multiple tasks and prioritise responsibilities in a fast-paced environment.
Strong desire to learn and grow within the role, continually seeking opportunities
to develop new skills and expand their knowledge of the industry.
Excellent writing skills, and the ability to create engaging and persuasive content
across various platforms, such as social media, email campaigns, and blog posts.
Strong interpersonal skills, and the ability to communicate effectively both verbally and in writing. They must be comfortable liaising with colleagues, clients, and stakeholders at all levels.
Ability to identify trends and opportunities from data, continuously adapt to
Google algorithm changes, and delve into data to make logical decisions.
Ability to prioritise tasks and manage multiple projects simultaneously, meet tight deadlines, and never miss a beat with client communications.
Strong desire to contribute to the success of the team and the company. You will
be highly self-motivated and have the ability to work independently.
Strong written and verbal communication skills.
Advanced knowledge of various marketing software including SEMRush,
SERanking and GSC.
Apply for this role
As an Organic Marketer you will become an expert in your field.
Desirable
Previous experience in client facing roles is a bonus
Educational background in marketing or similar
Strong written and verbal communication skills, with the ability to explain complex concepts to both technical and non-technical stakeholders.
Highly creative with good analytical understanding
Good interpersonal skills and ability to work as a team
Excellent time management and ability to work under pressure and to tight deadlines
Excellent writing skills, with the ability to create engaging and persuasive content across various platforms, such as social media, email campaigns, and blog posts.
I've been with Laser Red for over 3 years now, and before that, I worked alongside them at a different agency. I'm not one to mince my words (as marketers will know, be concise!) and I can honestly say this is the best place I've ever worked.
The team is amazing – not only are they welcoming and friendly, but they are so supportive. Working together is a key part of every day life at Laser Red, and that's what makes it work so well.
Digital marketing is a fast-paced industry and is constantly evolving, and our team is always looking for ways to innovative and grow. If you want a challenge, along with a great atmosphere and a passion for the work, then this could be the perfect place for you.
Why work for us?
At Laser Red, we live and breathe our business, and our team is at the heart of everything we do.
We believe they are the driving force behind our success and we value each and every one of
them, and that's why we're constantly striving to make Laser Red the best place to work.
It's our mission to create a reliable, supportive and caring company where each member of the
team matters. We have exciting growth plans, and while we're passionate about meeting our
commercial objectives, we're equally committed to creating a dynamic and supportive work
environment for our incredible team to thrive in.
Here are some reasons why we think you should join our team:
27 days off each year + Bank Holidays = 35 days holiday in total
Option to buy extra holidays*
Hybrid working arrangements after your initial onboarding period
Flexible start/finish times after your initial probation period.
Advocates of mental health and free professional counselling sessions
Fun social activities
Access to additional training and personal development
Charity and fundraising activities and support for things close to your heart
Casual dress code
Bring your dog to work
Paid time off for giving blood
Annual summer BBQ & big Christmas party
4x Agency Days a year (full day of activities and training)
Financial support
Bereavement support
Additional pension scheme contributions*
Cycle to work scheme
Sick pay scheme*
End of year bonuses
Bonus scheme for helping us recruit great people
Quarterly commission scheme for any sales you make**
* Length of service eligibility criteria
** Must meet qualifying criteria
Still Interested?
This is a great opportunity for the right person to join the team and be the future of Laser Red. Whilst we will expect you to work hard and deliver, we also play hard too. From the support and training that we will give you, to flexible working and team events, we have lots to offer! We're excited to meet you.
Closing Date: 23/06/2023
We reserve the right depending on application numbers to close or extend the closing dates for positions; we would therefore recommend an early application.