The company
The National Education Group (NEG) operates as National Online Safety and The National College. Across all three outlets, the group provides schools, educational authorities and teachers with online CPD to keep up to date with policies, emerging trends and become more responsive to online threats.
With members from all over the world accessing NEG's webinars, they were seeking a user-friendly, high-performing cloud-based solution to host their products.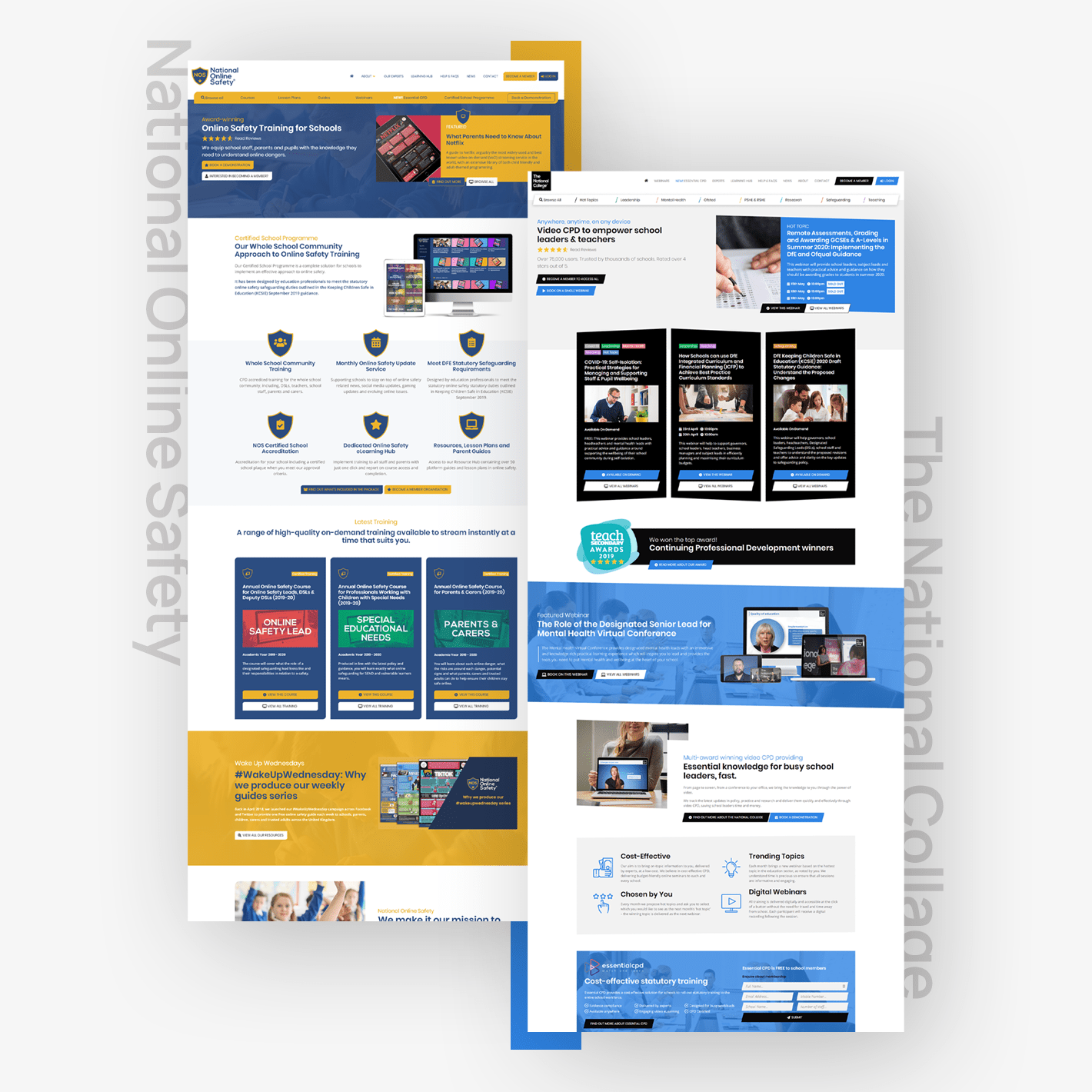 Two websites and two cloud-based applications
NEG came to us to with the requirement for two new fully interactive websites and two cloud-based learning portals (apps) for both National Online Safety and The National College. This project's objective was to allow education experts to deliver digital training to keep school leaders up to date with policy, practice and research.
The websites were to act as an advertiser and medium to gain access to the online portals. Through the portal, school or education authorities could access training seminars, lesson plans, courses and more. Without the need for costly training days and briefings. The portal could only be accessed through online registration and all content was chargeable, either as a one-off free or subscription-based.
Addressing the clients needs:
The client already had two functioning websites, but they were lacking:
streamlined systems all in one place
optimised pages and content
trackability of invoices and payments
stand out branding
automation
end to end-user experience
accounting functions
Unique selling points
We really wanted the new websites and portals to showcase the groups USPs in order to attract more customers and get ahead of the competition. The website and apps, therefore, went through rigorous design stages to ensure they were:
Responsive to policy and trends
Dedicated brands with expert teams
Insight-driven
Providing a modern learning delivery
Always on topic
Cost-effective
Bespoke cloud-based application
For the framework, we used Laravel. Laravel is a free, open-source PHP web framework. This was the chosen to help aid the stability and usability of the education portal in which subscribers can access the CPD.
Using this CMS meant we could create an easy way to manage the accounts of clients but also a fully functioning front-end of the site for easy user flows and navigation.
Subscription-based portal
The portal could be seamlessly accessed through the website with a simple email address and password login once the registration process was complete.
For client security and efficiency, we linked the portal to Xero for accounting ease. Which also allowed subscribes to pay for CPD via invoice.
We also induced automation, videos could be uploaded automatically at specific times without having to rely on GoToWebinar. This was a time-saving initiative for the client and meant huge amounts of content could be scheduled for launch in advance.