The brief
When HBP Systems approached us to help increase the performance of their PPC landing pages we put some out of the box thinking into the solution.
When it comes to conversion optimisation, every millisecond counts. Sending potential customers to a slow website is essentially throwing money down the drain.
Our brief was to deliver an ultra-fast landing page front-end, in fact we were aiming for under 1 second, while still being able to provide key landing page elements within the page, all fully editable through a WordPress CMS.
211% Increase in conversion rate
53% Reduction in cost-per-click spend
Implemening Google AMP
AMP is Google's own open-source HTML framework for building websites, emails and ads. It is built around the basic principle that, quicker load times = lower bounce rates + higher conversion rates. 
AMP web pages, as a standalone product, have design limitations but are enhanced for user experience. We built HBP's new landing pages to have AMP capabilities but with our own bespoke design using our unique flexi-block builder in WordPress CMS. This gave the client the power and flexibility to create unique landing pages, while also adhering to the AMP performance criteria.
"Thank you to everyone for their work so far
and looking forward to taking this all to the next level!!"

The chart above shows the increase in conversion rate alongside the decrease in cost per conversion.
Performance increase
HBP had been struggling to improve the quality score metric on their Google pay-per-click ads.
Prior to discussions with Laser Red, they had traditionally been using the WordPress page builder plugins to create landing pages which had been effective in designing good-looking pages but the speed and performance of these were hindering the advertising campaign.
Breaking new ground with AMP and WordPress
Before embarking on this project our team heavily researched AMP related solutions with bespoke design capabilities. To our knowledge, there was nothing available to fit the strict requirements, and certainly not an off-the-shelf solution available.
Our development team became experts in AMP and were, therefore, able to build this as a bespoke piece of software, converting what would normally be a WordPress front-end into an AMP compliant front-end, which is possibly the only solution like it in the world.
The results
During the first full month of switching from the WP page builder technology to Google AMP landing pages, HBP Systems experienced a 211% increase in conversion rates from their Google PPC campaigns with the added bonus of reduced cost per conversion of 53%, due to the positive quality scores.
This trend continued into the proceeding months and with continuous easy to make tweaks the pages, HBP are likely to see their best ever performance on Google Ads returns in a short space of time.
Super-fast load times
GTmetrix is a grading system for website performance. The new HBP landing pages built in Google's AMP are achieving the highest results we have witnessed across all grading metrix which covers site speed, structure and performance.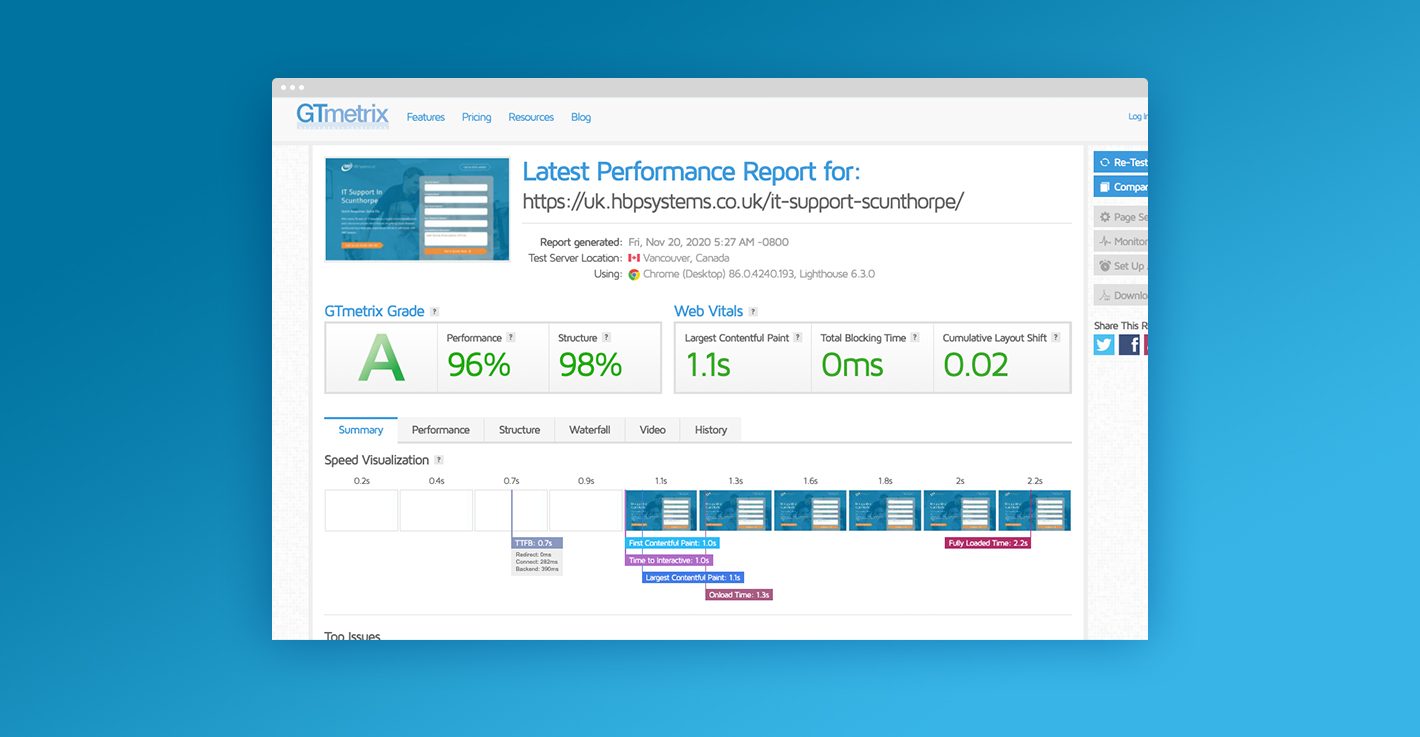 "The Laser Red team are all a pleasure to work with, questions are answered and advice is provided throughout any project. We are continuing to work with the team on new projects. Thanks to everyone involved in our website design, development and launch. Looking forward to the next one."