The brief
Fox approached us to help them solve a problem with their efficiency and speed of internal communication between their team who were using paper-based systems and slow processes to complete construction site visits.
Our solution was to build a bespoke online platform, accessible from anywhere on any device, moving all of this "paperwork" into the cloud and allowing documents to be securely shared electronically with each site location around the UK and the admin team at HQ.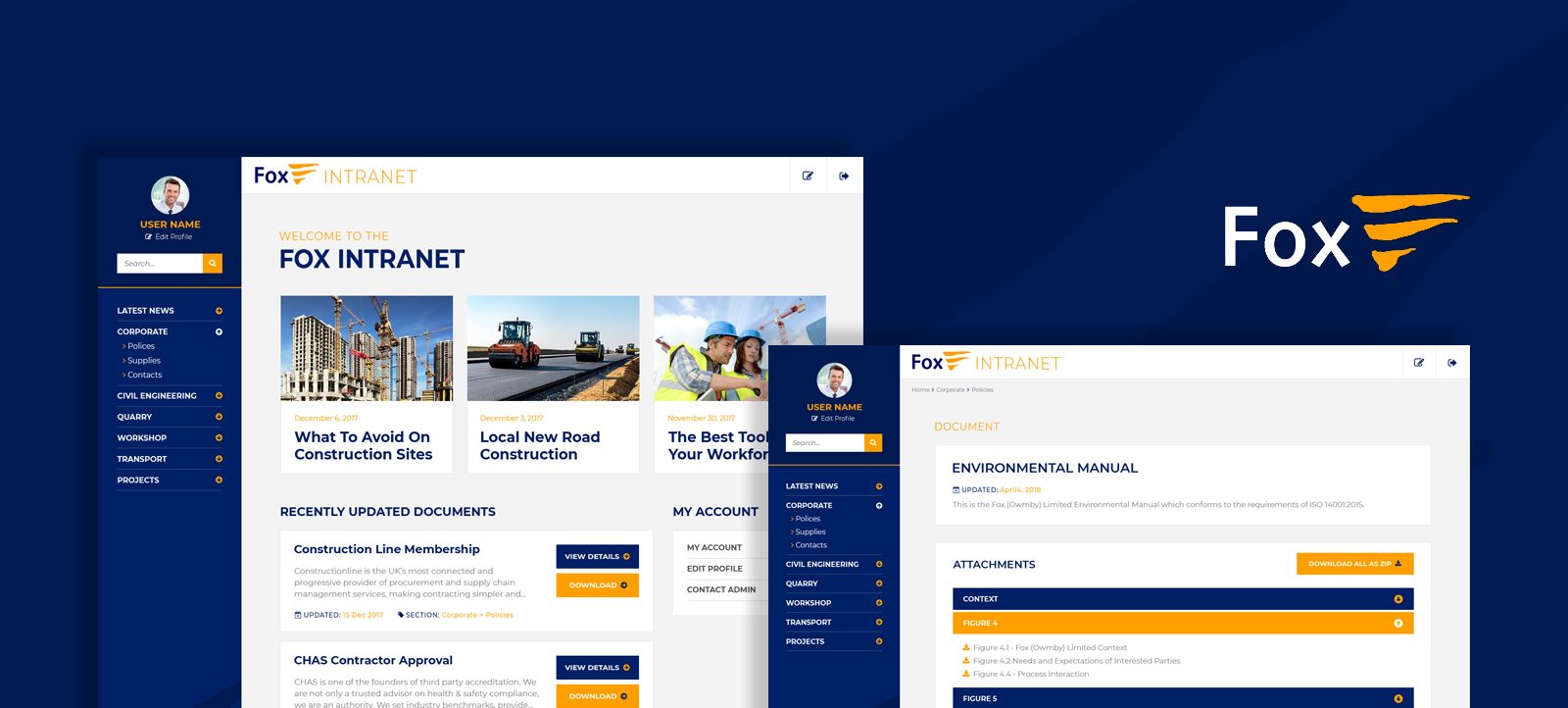 Secured employee access controls
Due to the sensitive nature of some of the documents shared on the platform, we built this project with security and access controls at the forefront of our development.
Each employee has their own unique login details and user role level, ensuring that different levels of the team or departments only had access to the right information. These controls over access are easily managed by the client's admin team, internally.
Replacing paper-based resources
Within the bespoke software, we built a specific area for downloads to allow employees to access documentation on the move, while visiting sites around the UK.
The downloads area meant that physical paperwork and paper-based forms could be replaced with digital versions, accessed without the need for printing, and even digitally signed, dated and saved into the cloud, giving instant and secure access to all Fox employees.
Realtime company news and updates
The intranet has a built-in company news system to aid in internal awareness and promote changes within the business to employees, ensuring that all company updates are sent and received in a much faster period of time – Fox can publish a news post and instantly make this available to all staff.
Improving internal communication and reducing time-sinks
Working in the construction and engineering sector, many of the staff at Fox spent a great deal of time away from the main office.
The new cloud-based intranet now provides them with instant access to secure resources, company news, and important documentation on the go, from any device.
Staff are now more efficient working anywhere within the country and, with easier management of workloads and communication, this system is helping to save the business time and money.