Consult with Confidence
Consult With Confidence is an online portal that allows users to carry out beauty, aesthetic and hair treatments online. It allows salon owners to monitor staff performance and manage their consultation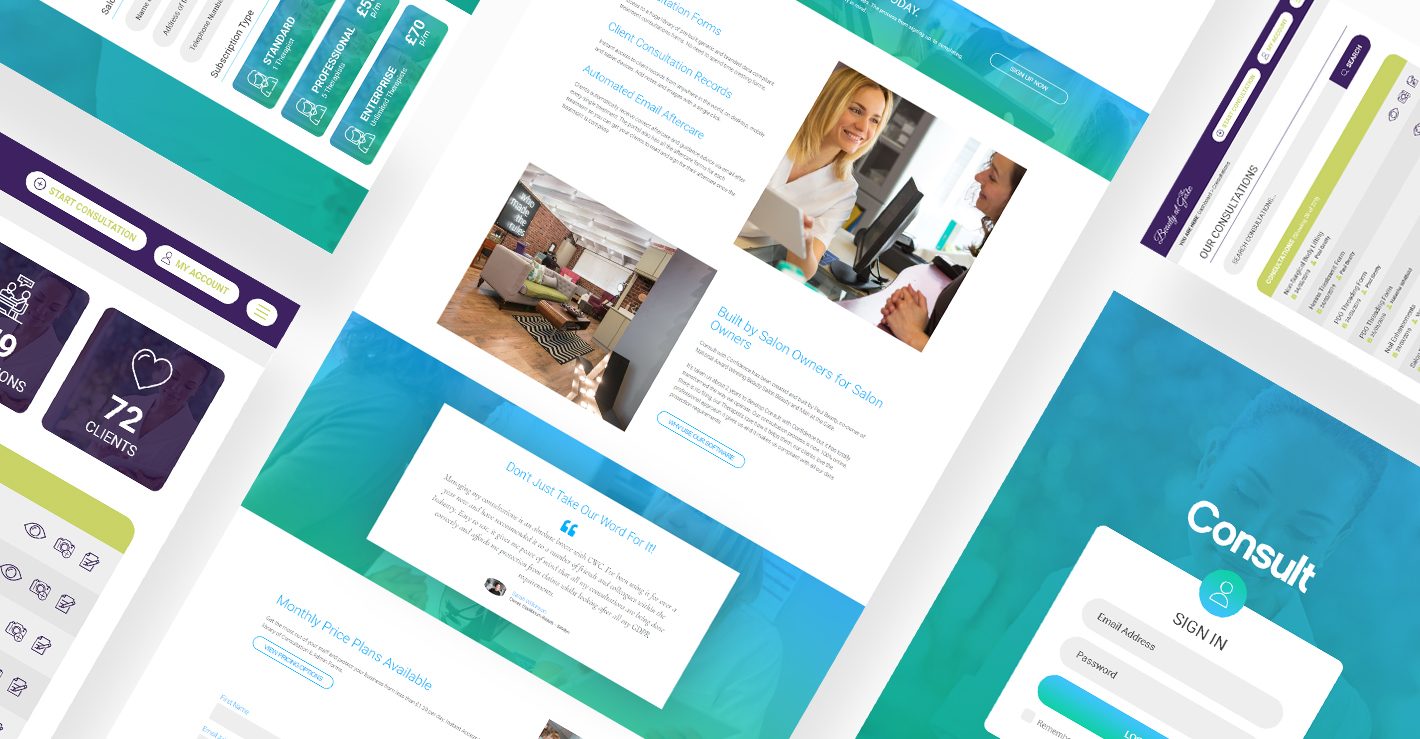 The Project Scope
This project was a two-pronged approach, we were instructed to design and develop both an application for the Consult portal and a fully-responsive website to match.
The aim of the project was to modernise and enhance both the website and the server function for the application making it more streamlined and secure. Whilst maintaining a great load time and reliability.
In addition, design an application that has a WOW factor, and gives the user a great experience throughout their visit to the application especially those who are not great with IT solutions.
The existing systems
The previous system used by Consult with Confidence was built across multiple servers which caused issues when amending features and running updates.
It also lacked user flow. The disorganised designed meant that salon owners, therapists and other clients were not having a great experience when using the system. This was ultimately increasing the number of complaints and hindering sales performance.
I had an industry-specific app built 2 years ago but was not happy with the time it took to develop and how it was built so I took the app away from that web provider.
I approached Laser Red to look at it as it needed some updates and although it was very difficult to work with Laser Red were able to perform a string of updates that allowed me to continue taking on new customers.
The service I received was good and all the timelines promised were met, something rare these days within the website sector. I was impressed enough to go ahead with a complete rebuild of the app which is scheduled to launch on time very shortly.
I would recommend using Laser Red and will continue to do so in the future, in fact, we have already discussed and been quoted for 2 more separate projects.
The development
We used the Laravel framework to build the application (portal). Laravel is accessible, yet powerful, providing the tools needed for large, robust applications that last. The website was developed using WordPress CMS, which is flexible and adaptable for the changing needs of the client.
The final result
The end product was two high-performing, digital solutions which have provided the client; and their clients with a cost-effective and data-driven solution for the beauty and aesthetic's industry.