Mid/Senior level web developer
DEADLINE: 15 May 2019
We are looking for a web developer, a coder, a nerd, a geek, a master builder.
At the moment we're looking for devs with a mid or senior level of experience / skillset.
The team here like a mix of office and remote working but everyone shows up on a Friday, because that's when we have social lunch.
Skills and experience = important
passion, drive and self organisation => important
Do

NOT

apply if…
…you aren't good with code (you'd be surprised how many applications we get that can't actually code)
…you are disorganised
…you can't cope with criticism
…you play the blame game
…you are lazy or idle
…you can only work on your own
…you struggle to convey meaning through written language
RECRUITMENT AGENCIES
Please DO NOT contact us about this role unless you are already on our approved supplier list. Our inboxes are a sacred place!
Development of websites, web applications and databases
Writing semantic, well thought-out code that others can work with
Finding, troubleshooting and killing fixing bugs
Working with the dev team to constantly improve our dev processes
Participating in scoping project proposals and tenders (adding your ideas)
Getting involved in the planning and mapping out of projects
Meeting deadlines and customer service KPIs
Generally being a dev superstar!
2+ year's experience
Fantastic knowledge of HTML/CSS (responsive grids)
Excellent JavaScript/jQuery knowledge
Outstanding level of PHP knowledge (Laravel or Symfony)
SQL and other database experience (MySQL, MongoDB)
Previous experience with APIs (XML, JSON etc)
Good system planning thought process
Familiarity with Version Control
Problem solving and math skillz
Excellent communication skills
Strong organisational and time management skills
Work Environment
We have a large 2000 sqft studio office based in the town of Grimsby on the North East Coast of Lincolnshire with good road, rail and bus connections.
North East Lincolnshire may be small but it's got all you could need. Low house prices, plenty of different Towns and Villages, with lots of surrounding countryside, green spaces and a lovely long coast line with a beautiful sea side scene. There's always plenty going on with lots of things to do, visit and places to eat (the food here is award winning!)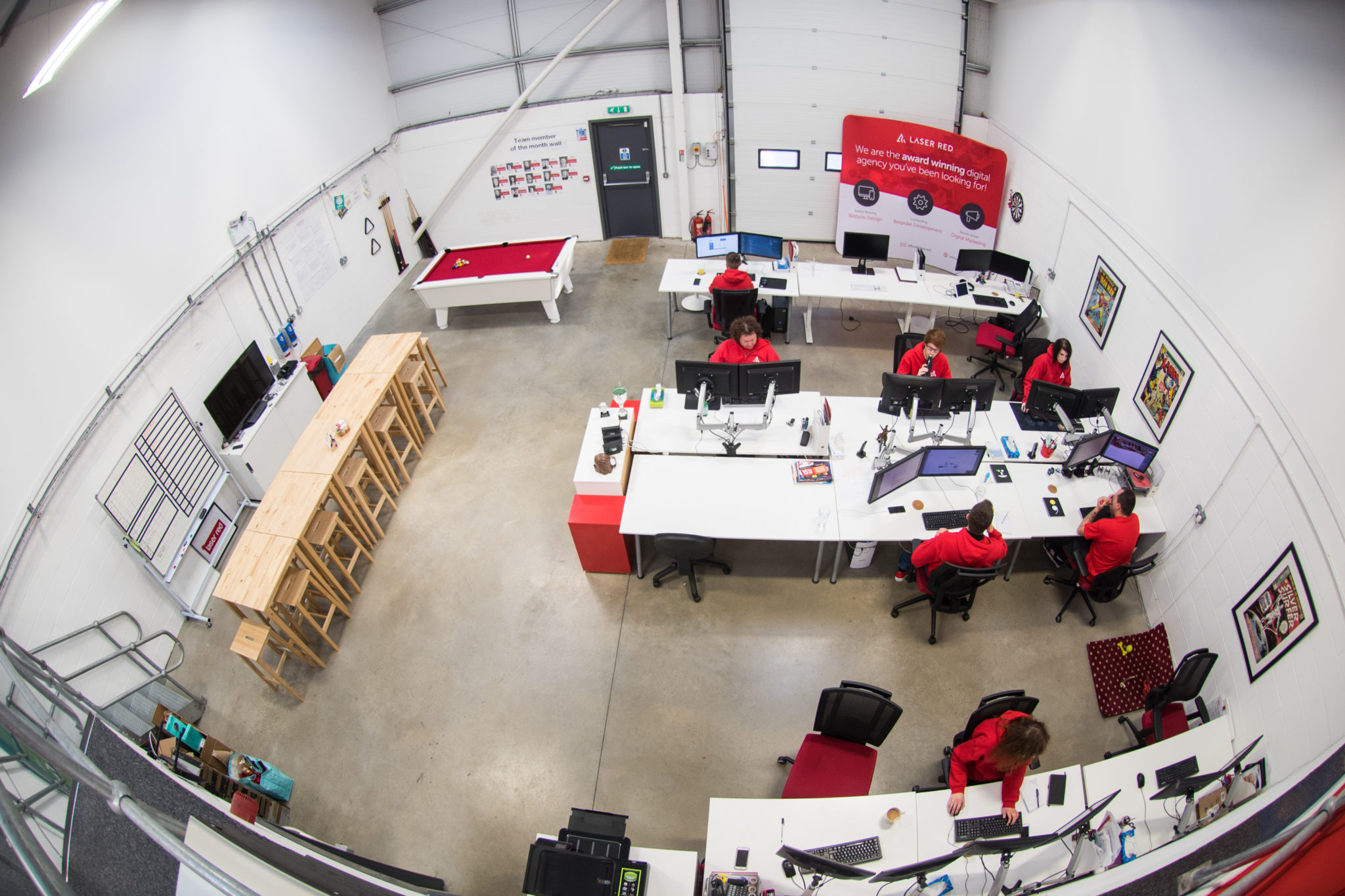 Our office environment is relaxed, fun and quirky. We have dedicated spaces to chill-out, eat and work, keeping them all separate.
In between work you can play pool, darts, Xbox, Play Station, SNES, N64 and even fly drones around the office. We also LOVE board games!
We want our team to feel at home. No one wants to work in a stuffy, uninspiring, stressful environment.
Apply for the job
Applications are closed. If you have any queries, please contact us via email or phone - office@laser.red / +44 (0) 1472 878 496.