Careers
Work shouldn't be a chore. It should be something you should enjoy.
Laser Red isn't a place for people who just want a job, it's a place for people who love their job.
Liam O'Leary, Managing Director
Team Lunches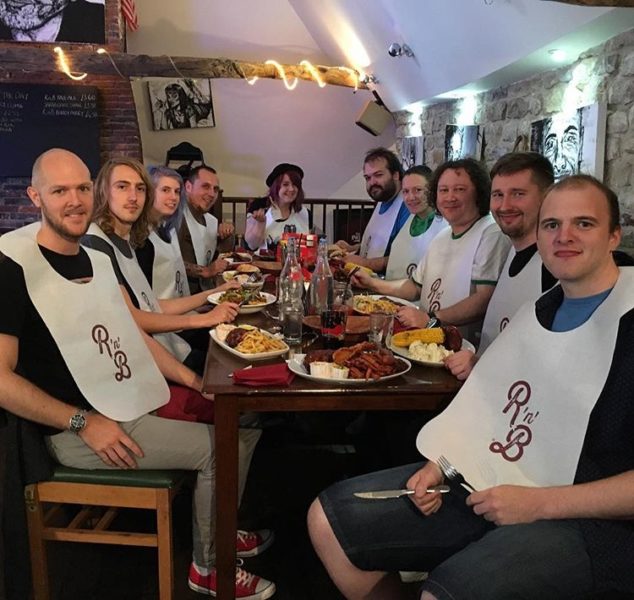 Once a week the whole team either orders in a take away or we leave the office and visit one of the local areas best eateries.
Our usual favs are KFC, Dominos, Burger King, BBQ, Fish n Chips and of course a British staple, Indian!
Because we have a bigger team we usually take a vote on where to eat, in fact we've just created a digital selection tool to help us choose faster.
Learning
It's highly important that our team constantly improve and progress in their skills and experience, that's why we actively encourage self improvement through a number of different ways, including:
Training and conference allowence
Hack / training days
90 day self improvement goals
Biweekly 1-2-1's
Quarterly targets, reviews and bonuses
Our goal is to be the best digital agency in Lincolnshire so education in this fast moving industry is extremely important.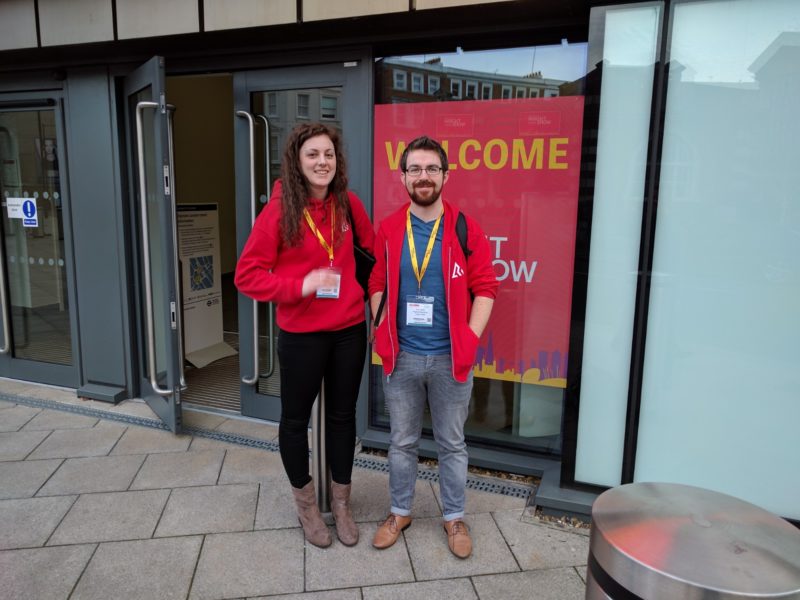 Play time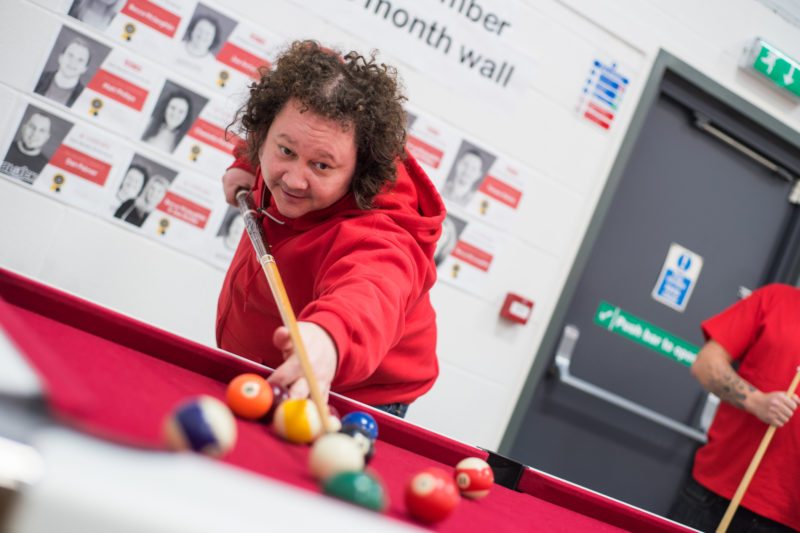 You know what they say. Work hard, play hard.
To ensure we stay true to that saying, we've made sure the office environment is a place we can relax and socialise.
Whether that's through a game of pool, darts, board game or retro gaming console, we'll do anything to make sure our team can unwind and stay on sharp.
Team Events
Every quarter we organise a big fun team event, fully paid for by the business. Past events include:
Bowling
Go-karting
Trampoline parking
Paint-balling
Big cinema premiers
We also try to get in one smaller team event each month. Sometimes this is just a few drinks together at the local, or we'll organise a movie or board game night.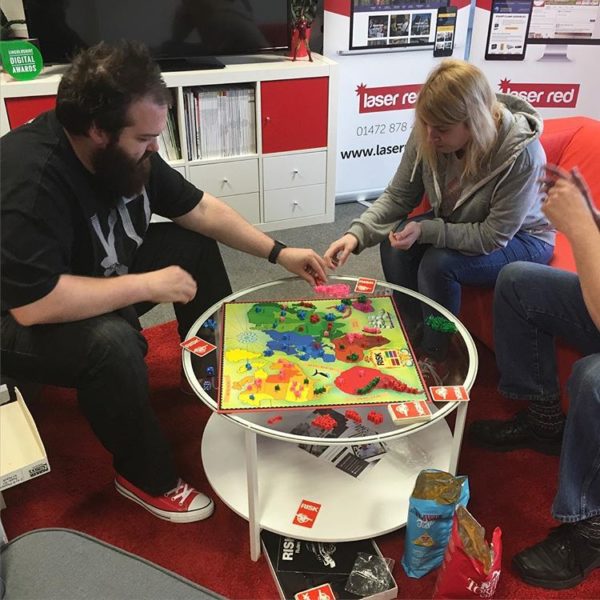 Charitable Causes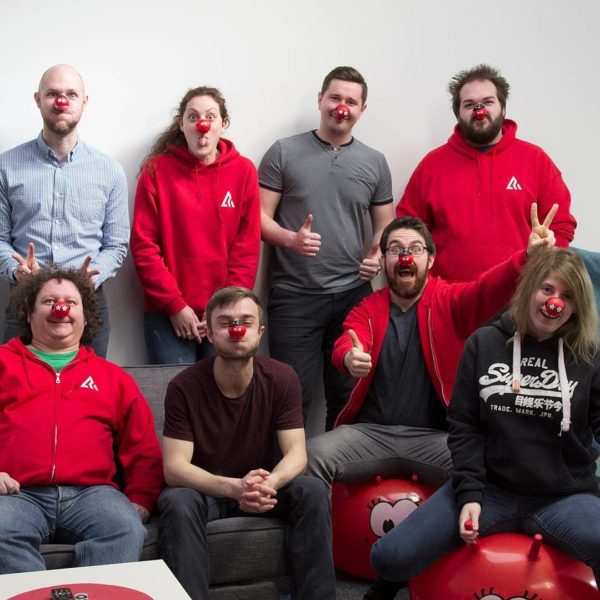 We love doing some good in the world, so you'll find us raising money for charities by dressing up, baking or running.
Every year we also support a local charity, doing lots of fundraising and providing our expert services to help them achieve better awareness and increase donations.
Awards
Each year we enter a number of awards and when we're nominated we love to take as many of the team as possible to celebrate together.
They are always a great night (if that can be remembered) and we enjoy dressing to the nines every now and then.
Current awards and nominations include:
Best Company Culture of the year 2018 (finalist)
Employer of the year 2018 (finalist)
Best digital marketing campaign 2017
Best website of the year 2016 (Winner)
The most innovative product of the year 2016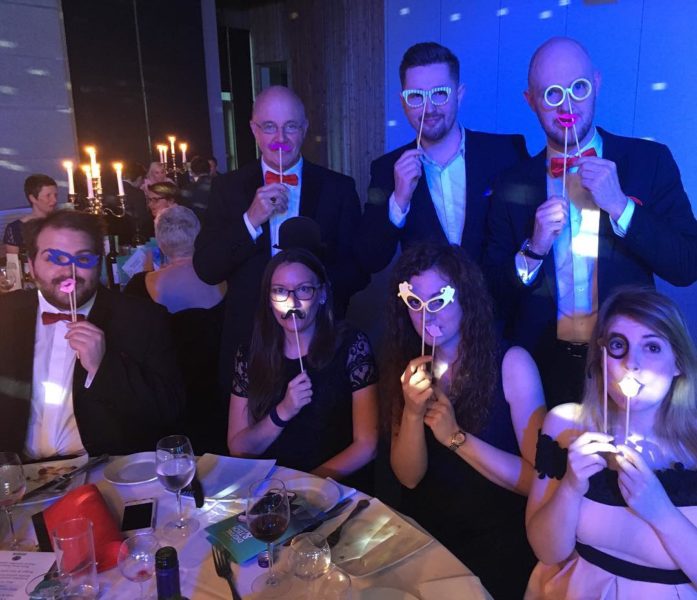 Rewards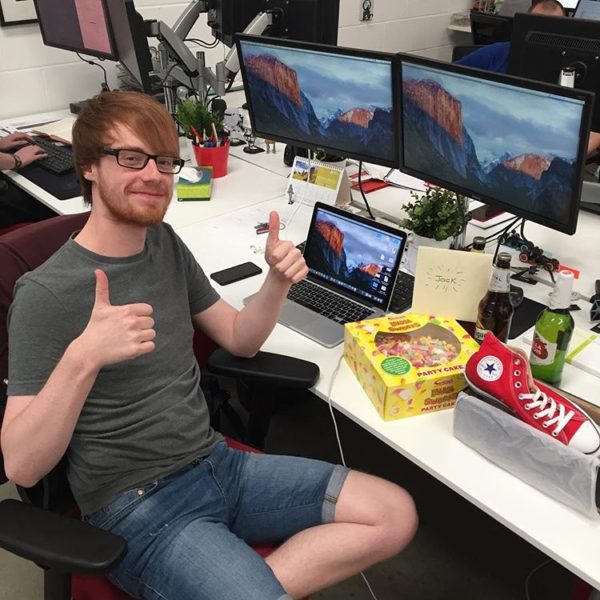 We like to reward amazing achievements.
We love to show appreciation when a team member:
Hits a target
Gets great client feedback
Completes their work sooner than planned
Goes above and beyond
And of course we celebrate every birthday with cake and alcohol!
Enjoyable Work
Above all, one of the biggest parts of working here is the work. We love to choose interesting projects, that push the boundaries and let us use new technologies and techniques.
We obviously do a lot of the typical digital agency work but even then we try to make our client projects even more engaging by doing something new, different and unique.
Checkout our past work here to see some cool projects we've completed.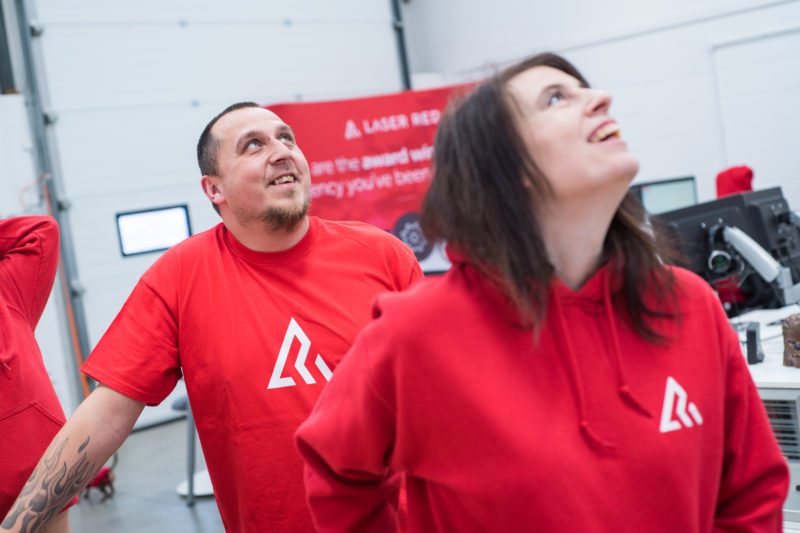 Flexible working hours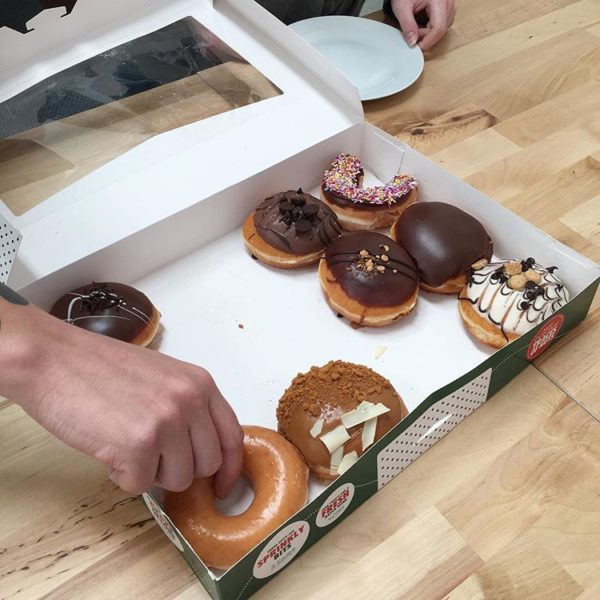 As many of the team have families and other personal commitments, we introduced a flexible start and finish schedule to allow different team members to come and go at times of the day that suits their personal life.
This program has really helped parents in particular. One family have now been able to send their child to a better school, which was previously impossible due to the distance and travel time from work – they now leave early to accommodate the school's pickup time.
Remote working
Not everyone works best in an office and some team members commute a long way to be part of the team.
We introduced a remote working policy which has allowed the team to choose where they wish to work and when. This could be at home, from a coffee shop or even while abroad – one team member worked from Thailand for 3 months.
We provide all of the right training and equipment in order to make sure remote workers still feel like part of the team.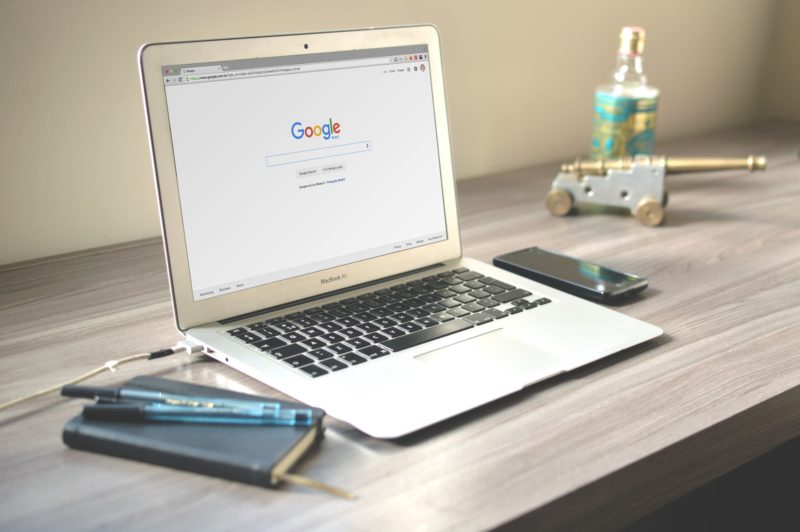 Duvet days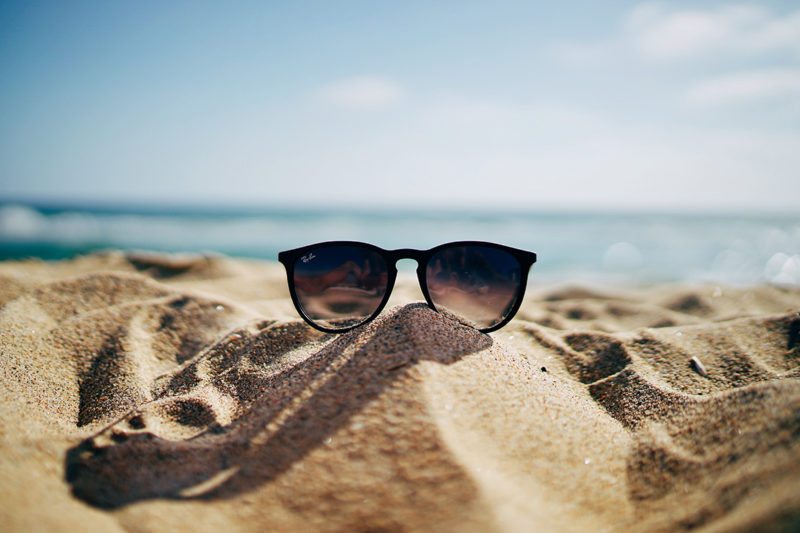 Each member of the team has two duvet days a year that they can use at short notice to take the day off work. No questions asked.
These are not classed as holidays and do not affect their holiday allowance. They are designed to reduce the number of sick days, burnout and stress (sometimes hangovers).
Mental health programme
Positive mental health is also a big goal here at Laser Red.
Personal and work related issues and stresses can cause people to become unhappy and despondent.
Since the middle of 2018, the company has been providing free one-on-one counselling sessions with local qualified practitioners who have helped numerous members of the team with personal issues.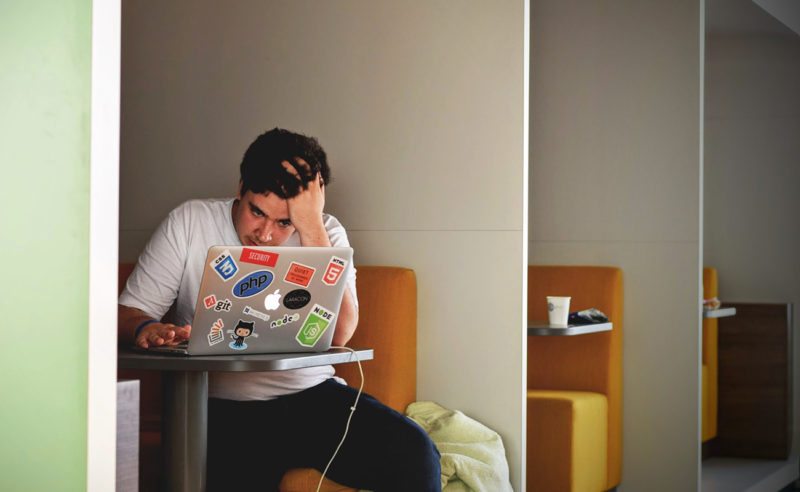 Dog Friendly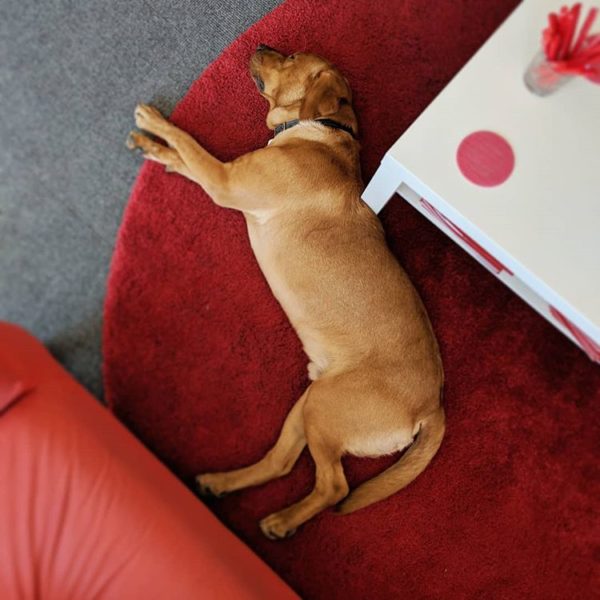 Having a dog in the office helps to lower stress unless that dog needs to go out!
We are a dog-friendly office and the team regularly bring in their furry friends.
If you have a dog then we'd love them to join us in the office as long as they are house trained, calm and responsible for cleaning up crumbs.
Saving Lives
The team are encouraged to partake in an important life-saving activity.
All team members can schedule to give blood at the local blood drive. They can do this as much as they want throughout the year and they are paid in full for the time spent at the blood bank.
On average the team donated over 20 pints of blood a year.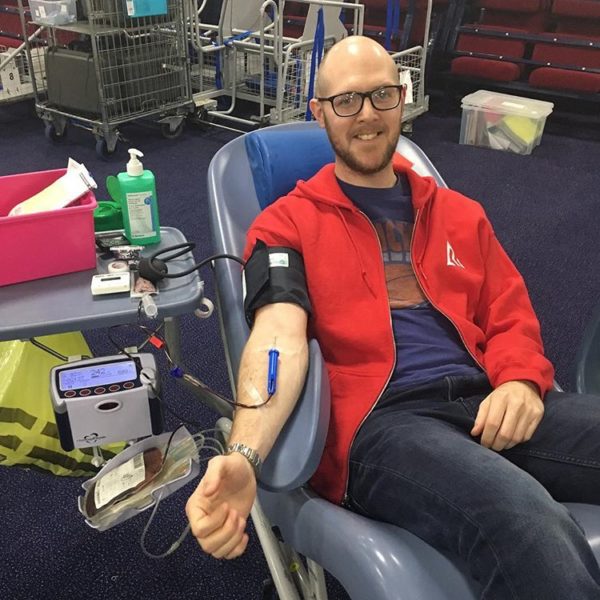 Work Environment
We have a large 2000 sqft studio office based in the town of Grimsby on the North East Coast of Lincolnshire with good road, rail and bus connections.
North East Lincolnshire may be small but it's got all you could need. Low house prices, plenty of different Towns and Villages, with lots of surrounding countryside, green spaces and a lovely long coast line with a beautiful sea side scene. There's always plenty going on with lots of things to do, visit and places to eat (the food here is award winning!)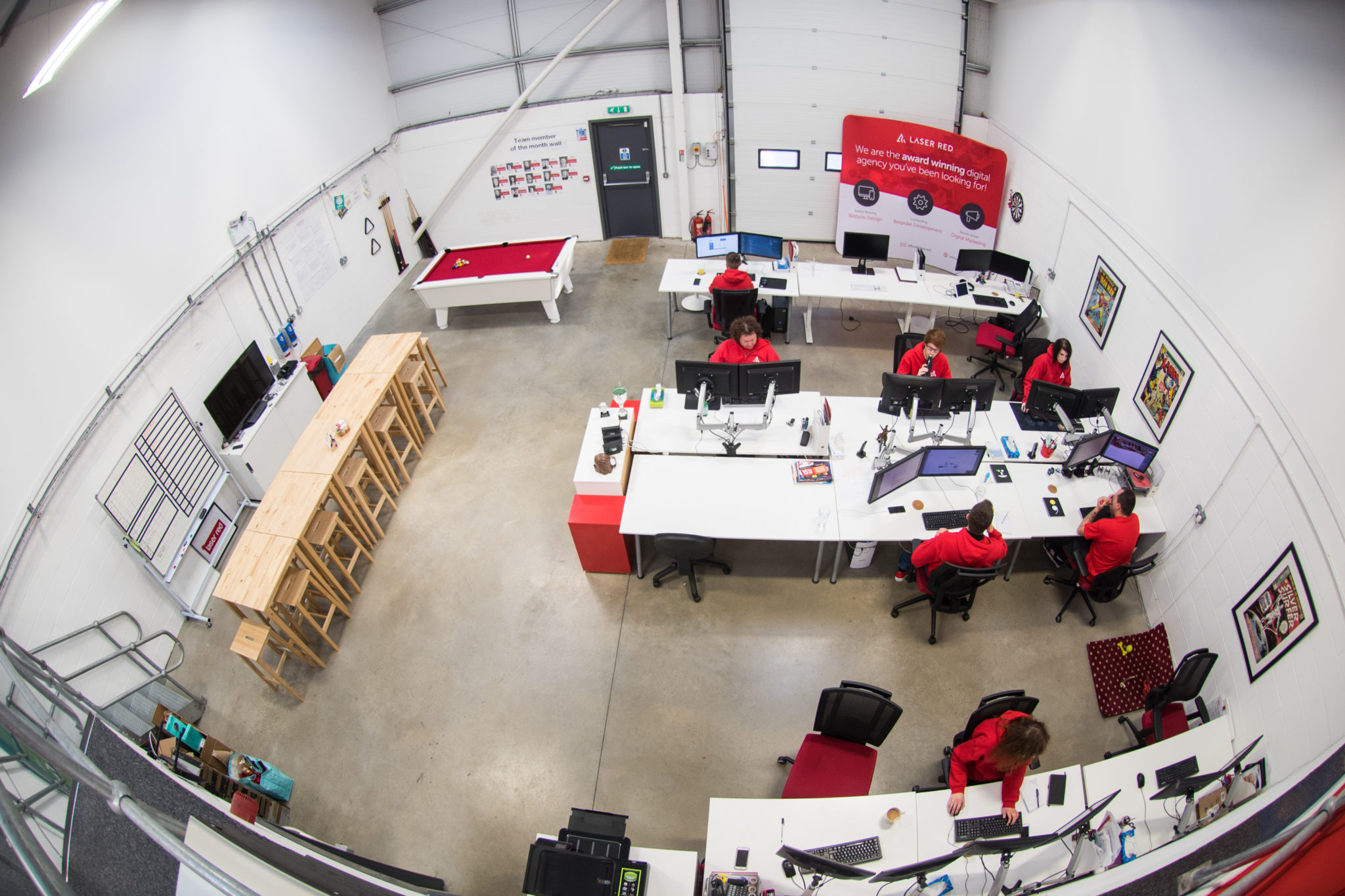 Our office environment is relaxed, fun and quirky. We have dedicated spaces to chill-out, eat and work, keeping them all separate.
In between work you can play pool, darts, Xbox, Play Station, SNES, N64 and even fly drones around the office. We also LOVE board games!
We want our team to feel at home. No one wants to work in a stuffy, uninspiring, stressful environment.
Some thoughts from our team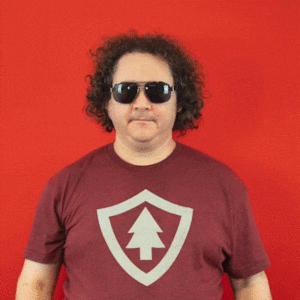 Working at Laser Red is interesting, challenging and fun. The team are knowledgeable and friendly and produce some great work.

Passion for new technologies and producing high-quality software are ingrained in the culture, along with retro gaming, social lunches and a genuine desire to make employees happy.

Applying to join this business was the best decision I ever made! I love it here.

Joe Archer - Senior Developer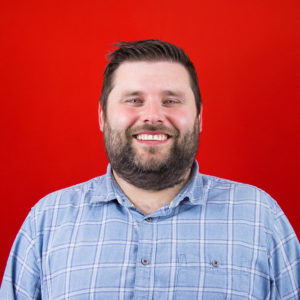 Before starting my employment with Laser Red I was quite apprehensive as it all sounded a little too good to be true. I was coming from a previous place of work that claimed to be a passionate, caring, forward-thinking business that put it's staff and clients at the forefront of all business decisions, something which I rarely saw in the time I was with them.

Coming to Laser Red couldn't be any further from the approach of my previous employer. Before I had even started with Laser Red I had been to lunch with the team, played pool with the MD, met the office dogs and I was given friendly email updates from the team as they set up my work station before my start date.

I am now eight months into my employment with Laser Red and I can honestly say I've never been happier within my working life and I am so glad I made the decision to approach Laser Red for employment.

Laser Red's approach to putting people first gives the business a family feel, and I am proud to say I am apart of the Laser Red family.

John Pearce - Account Manager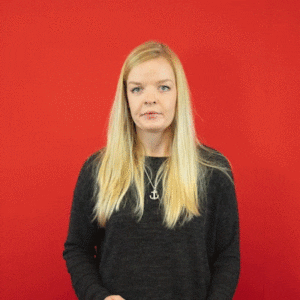 From the very first time I was introduced to the team as part of the recruitment process, I was welcomed in with open arms, friendly faces and big smiles. Everyone genuinely took an interest in the potential new team member and the laser red bond was instantly shown.

Culture is so important to Laser Red that this part of the recruitment process is crucial!
Since then, I've noticed there's always been a fun event on the cards – such as pub quizzes, chocolate tasting and social lunches.

I think it is so awesome to work within a company that takes creating a great culture so seriously, making being in the office great – every day!

I feel valued, cared for, respected and safe in the Laser Red work environment, not something you can say about every work place.

Sam Baker - Project Manager