What makes Laser Red…
Our team of  24 experts
Tea-drinking, pool-playing super-geeks, but our friends call us Laser Red.
We're experts with a passion for all things digital – from design for screens, web development to online marketing, our team has skills to help transform your digital footprint.
Founded in '95
Work with us and you benefit from our dedication to always stay one step ahead of the curve, at the forefront of our industry, and ahead of our competitors.
From humble beginnings, located in a back bedroom in 1995, to a team of over 20 members, two office locations, and an extensive list of local, national and international clients, we have shown we can move with the times.
Culture
This is the heart and soul of any business and we work hard to ensure we maintain a great culture.
We actively try to make Laser Red the best place to work. Here are some of the things we're currently doing as a team: training courses, flexible working hours, remote working, wellbeing days, social lunches, team activities/events and a mental health programme.
Our offices. The perfect place to work, and play!
Laser Red has two locations we call home; our head office in Grimsby; a bright and airy 2000 sqft open-plan space, and a second location in the heart of Lincoln city.
Due to events in 2020, we now mainly work remotely, using our knowledge of digital tech to operate as seamlessly as if we were in the office together. This also gives us more flexibility to work around your needs. If you need a quick video chat or presentation run-through, we are here for you.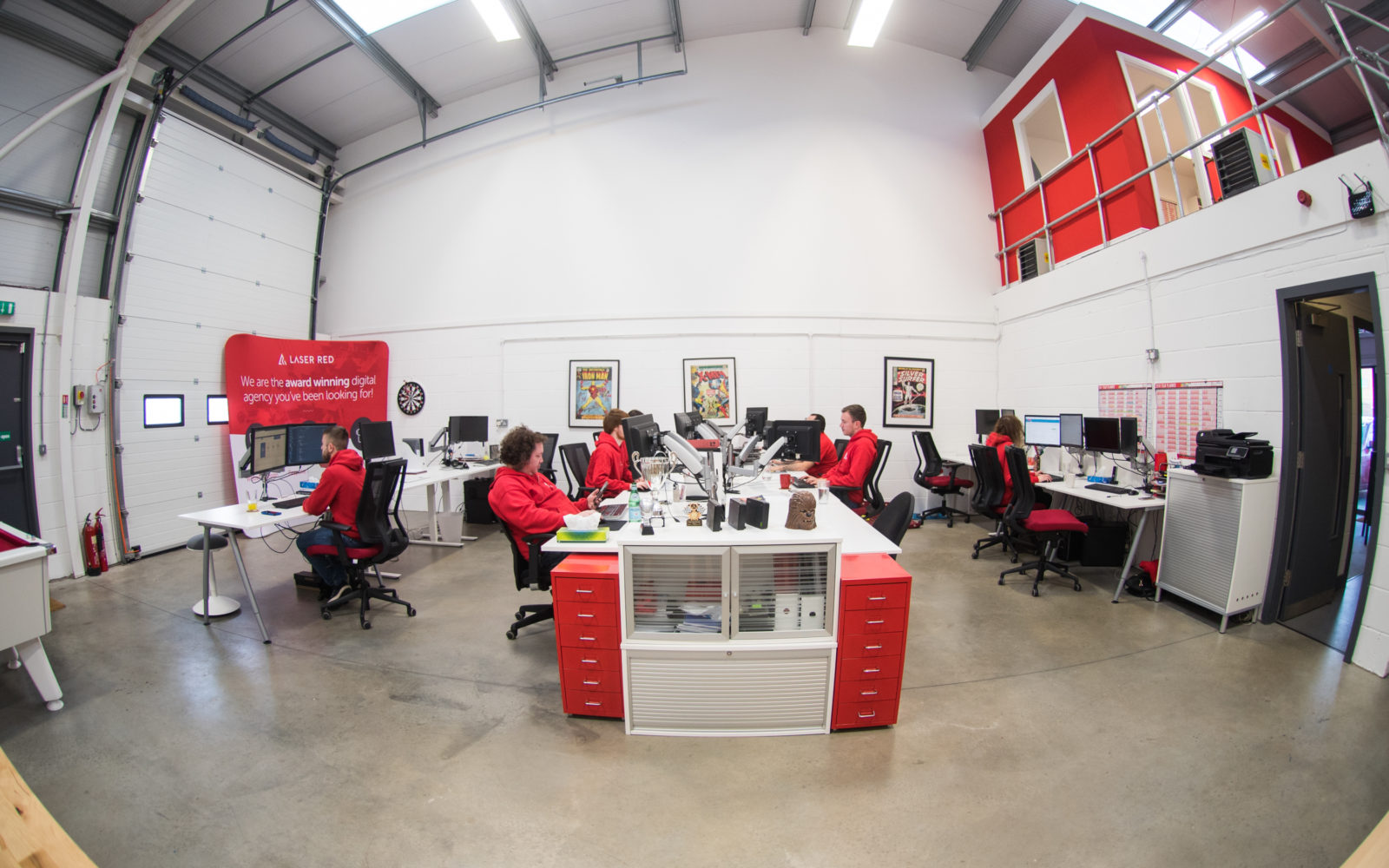 "Laser Red is a place for people who want to progress and innovate. It's a place for people who love what they do"
Liam O'Leary, Managing Director
We don't brag… much!
We're award-winning.
Doing great work for great clients is what gets us out of bed in the mornings, we don't do it for awards. But it's always nice to be recognised for good work. We also love to get glammed for the award nights!
We've been winners and finalists for awards in culture, web design, digital marketing and customer service.
Team Lunches
The team that eats together stays together. Once a week we take the time to spend lunch together.
We visit local eateries or order in. And because there's a big old bunch of us now we've even developed our own digital tool so we can make a democratic choice!
What can we say? We're serious about our grub.
Giving back
We're not all business! We pride ourselves on giving back.
The team are keen blood givers, donating on a regular basis. Our digital agency also aims to raise as much money as possible for other charities and amazing causes.
This year our charity of the year is LIVES.