A warm welcome to our latest addition to the Laser Red marketing team, Cloud! Cloud is our first-ever marketing assistant and she has already started settling into the company with ease.
Taking a rather unconventional route into the world of marketing, Cloud is making a career change from teaching in a primary school. We are sure those communication skills will come in handy and that her passion for writing will be an asset
to our team.
Before being offered the position, we asked Cloud why she wanted to work with us at Laser
Red, she mentioned all of our company perks as well as the friendly atmosphere and the flexibility in the job role. She was very much looking forward to working on a range of different projects as well as developing her own skills. After her first day with us, here's what she had to say:
"It's incredible how welcoming everyone has been. It already feels like I am part of the team and that my perspective matters. I feel like there is no such thing as a stupid question and I know that I am going to get all the support I need to
continue to develop my writing skills and learn lots about marketing."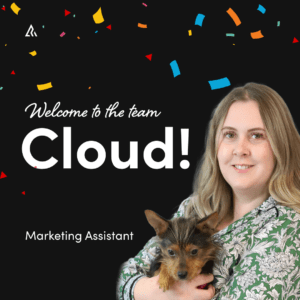 We have already got lots of exciting tasks planned for Cloud to help her get stuck in and learn on the job. When we
asked her what she was most looking forward to, here's what she had to say:
"Being part of a team who work with such a diverse client base, I can already see that no two projects are the same. I also can't wait to learn some new skills and develop my un
derstanding of SEO and PPC. I'm also really excited to get to know the whole team better with some of the exciting team events and agency days we already have planned."
When welcoming our new team members, we always like to include a little bit about their personality. Cloud loves getting crafty and will always try and make something before buying it (even if that triples the cost). She also loves reading and sharing her love of books with her cheerleading 8 year old daughter who both have a passion for all things spooky.
If you're interested in seeing how Cloud and the marketing team can help your business, contact our team today!