Each year, Macmillan hosts the world's biggest coffee morning, inviting the whole UK to join them and raise money for this incredible cause. What started with a local fundraising committee donating the cost of coffee in 1990 has quickly become Macmillan's biggest fundraising event, with millions of pounds donated each year.
This year, Laser Red is excited to get involved by opening up our Grimsby Office, where we will be serving a range of drinks and tasty treats to start your morning. We are inviting you to come join us at 9 a.m. on Friday 29th of September, as we take time out from our busy schedules to raise money for this amazing charity.
For over 100 years, Macmillan has worked hard to ensure that those affected by cancer receive the proper care and support during such a challenging time. From providing nurses to building cancer support centres and providing a support line, Macmillan is always there for families, loved ones, and victims of cancer.
Macmillan estimates that there are around 3 million people currently living with cancer in the UK, and it is predicted that 1 in 2 people living in the UK will be affected by cancer in their lifetime. Our lead designer, Danny, sadly lost his stepfather, Al, to cancer in August.
Al's Story by Danny.
"At just 49, Al lost his battle to a very aggressive cancer. In early April, he was diagnosed with bowel cancer, which meant battling through an operation and chemotherapy. Early May, Al started to experience a loss of feeling in his legs and lost the ability to stand or walk without aid. By the end of July, after a long time in the hospital for various scans and tests, we were told the cancer had spread to his spine and brain, and he was given just 6 to 8 weeks left with us.
He was discharged from the hospital to spend his time at home with his family by his side in early August. Al's first two weeks at home were spent with his loved ones laughing and joking, eating all the food he wanted, watching films and catching up on missed series. After those first two weeks, one evening Al said he was feeling like he needed to lay down, and he slept for a full day.
The following day, Al awoke as a different person. He was in immense pain and unable to move from his bed. Our family sat by his side and helped the incredible care team as best as we could. We tried to reassure him that everything would be okay, reminding him how loved he was and doing our upmost to fill the room with laughter despite our heartache.
On Thursday 29th August 2023, Al took his last two breaths with my Mum by his side, holding his hand, after fighting the cancer with every ounce of strength he had.
Although Al wasn't my father by blood, for more than half my life he took me under his wing as his own, and I couldn't be prouder of everything he did for our family. Al was an incredible Dad to my younger sister, and the best partner to my Mum. He was everything I ever wanted in a Dad and so much more. The hole this has left in all our hearts is unmeasurable, with a void in our lives that can never be filled.
I can't thank all the community nurses, and Macmillan staff enough, as well as all the care, love, and devotion to making Al's final moments as comfortable, pain-free, and laughter-filled as possible by my little sister Erin, mum Jo, and Al's niece Andrea. Words can't describe how much we all needed each other and without you all, Al's final moments wouldn't have been what they were. Thank you so much."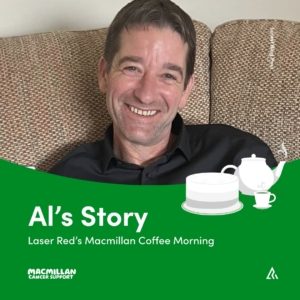 Every 90 seconds, someone in the UK receives a cancer diagnosis, and their whole world is changed. For many of those impacted, Macmillan is a critical lifeline, offering grants to cover the costs associated with cancer, qualified nurses to provide care and support and even someone to talk to. Macmillan also works behind the scenes to provide much-needed research into cancer, as well as providing healthcare professionals with up-to-date research and resources as well as training courses.
Laser Red is proud to be supporting such a worthy cause, and we hope you will join us. Let's work together to raise some money so that Macmillan can continue with the fantastic work they do.
If you'd like to donate to this incredible cause, Laser Red have created a Just Giving page