In the last year, many businesses have had to adapt the tools they use for communication in the workplace during the lockdown.
For Laser Red, this hasn't changed much, as we primarily use digital communication tools for our team and our clients. But we have adjusted our approach to communication in the workplace to ensure that both clients and team members can stay up to date with progress.
Best tools for communication in the workplace
Slack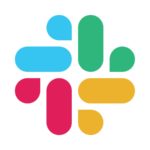 This is our main internal communication tool and, honestly, life would be so much harder without it.
Especially during lockdown where our workforce was required to work from home, Slack has been essential – not only to help us stay on top of our workload and updates but also as a social tool.
We have a channel for each of our departments (sales, design, development, etc…) and a channel for each of our projects too – including marketing, new website builds, and retainer projects.
This system helps keep everything in its place and avoids confusion if you are working on multiple clients in one day.<
What Slack is great for:
Quick questions and quicker answers
Video calls between teams within specific channels
Sharing gifs and emojis! And keeping non-work chat in a separate place!
We recently upgraded to the paid version, which allows us to go back through historic messages – very helpful for jogging memories and finding notes from previous conversations.
Google Hangouts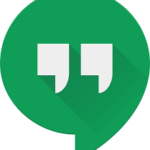 Every Thursday lunchtime, the whole Laser Red team joins a Google Hangout session to catch up with what everyone's been up to.
We use this time to pass on announcements, reminders, and for a general chit chat. This has been really effective during lockdown as it gives a focal point for the week to talk about work, but also share other news that normally would be chatted about in lunchtimes in the office.
We like Google Hangouts because:
We can use the same joining link every week
There are no time limits
We can share our screens
Everyone can fit on the browser window, using the tile layout
Some of the team can get creative with backgrounds for a bit of fun!
We also use Google Hangouts for video calls with our clients – they get the same benefits as above and also benefit from:
Not having to sign up for an account to join
The option to use their mobile to join
Reliable connections and an easy-to-use interface
Can present our screens to run through visuals together
Basecamp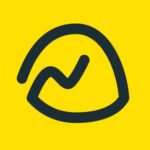 For every project our clients have, they get their own Basecamp area to work within. This is helpful for clients who may have multiple projects on the go with us and need to keep communications and tasks separate.
We use this software to keep all communication between our teams and the client in one place so everyone is in the loop. You are able to add multiple members of staff from a single client and assign tasks and messages specifically, so everyone doesn't get bombarded with irrelevant information.
Why Basecamp works for us and our clients:
Task lists set up for each project phase so clients can see where we are up to
Handy messaging area to ask questions to specific team members
Using the campfire area as a group chat system
File sharing section for documents, images, and files – all in one place!
Basecamp also has a fantastic mobile app for iOS and Android
If you would like a run-through of the tools we use here at Laser Red, you can contact our team for a demonstration, or to discuss implementing any of the tools above into your own processes.