We try our hardest to share our knowledge with anybody wanting to improve their design and development skills. We do this via our array of informative blog posts, hack events and through our yearly summer internship program. This year we've taken on the lovely Kara as our design intern.
Kara is going to be working closely with Dan (our lead designer). She aims to soak in everything about being a fully fledged designer. Even if that means, in Dan's case, chasing a tiny black pug around the office 10 times a day.
Kara joins us just after finishing her first year of studying Graphic Design at the University of Lincoln. Her course covers everything from branding and design through to promotions and advertising. Although much like every other designer, she has a love-hate relationship with branding. When it's great, it's great. When you've got a creative block and everything looks awful, it's not.
She's not all work and no play though, much like the rest of the team she's partial to the odd video game. She's currently very much into her MMO's but does enjoy the odd game of League of Legends when her studies allow. She also has a very keen eye for photography, although she's not very keen on having her photo taken.
Keep your eyes on our Instagram, you may see her pop up in and image or two. That's if we ever manage to stop taking photos of Chester! JUST LOOK AT HIM!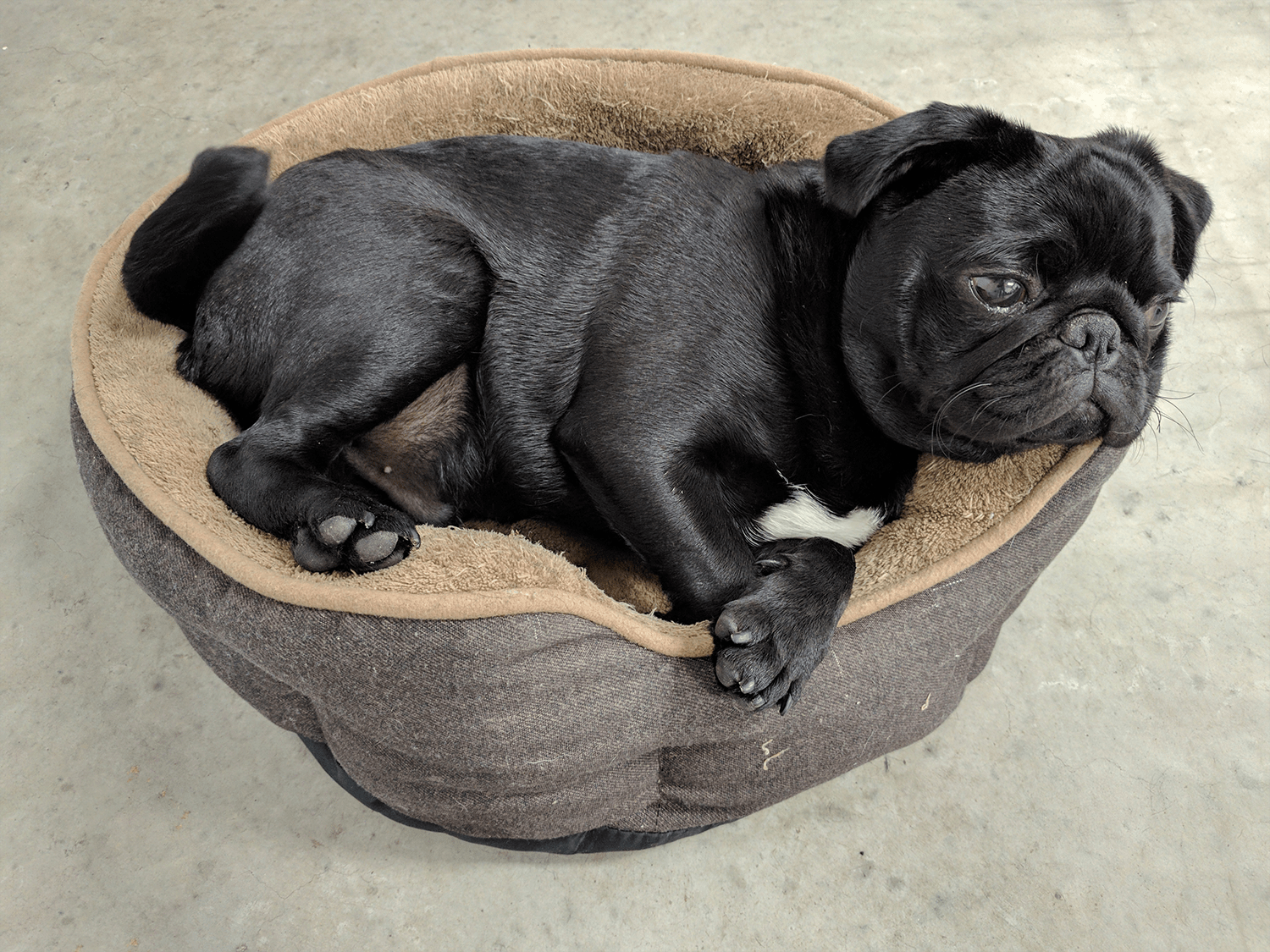 "So far I've found my time at Laser Red to be really useful. It's given me in-depth knowledge of the industry I aim to be a part of in the future. Working closely with Dan has allowed me to get a feel for how to correctly manage my workload. I can't believe how much I've learned already in the few days I've been here!"
It's not all chit-chats and cups of tea in the Laser Red office though (although we are all partial to a custard cream!). Kara was put to work quickly, tasked with creating a new brand identity for a local company of her choice. We've asked her to produce a full rebrand concept, as well as alternative colour schemes. All this work will culminate into a mock web design concept, incorporating everything she's learnt with Dan so far.
Kara is set to be with us for the next two months, while she's in-between university terms. We're very happy to have her, and we're looking forward to helping her out as much as possible.
To find out more about our intern program and how you could develop your skills with our help contact us today [email]office@laser.red[/email]