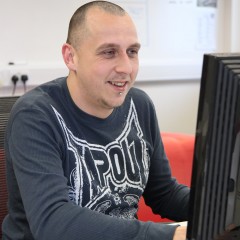 Back in February we started looking for another team member that could bring a fresh and exciting design eye to the business. Well we're glad to say that the search is over. Please welcome Dan!
Dan's a creative and qualified multimedia designer with a focus on delivering exciting and innovative solutions for new media, web and print.
With almost 8 years industry experience he's worked for clients in the public and private sectors with high-profile local, national and international clients.
We really like Dan's passion for design.
"Design is not just a career for me, it is a passion. I fuel this passion by always developing my skills with moving trends and technologies so my work is always 'cutting-edge', fresh and contemporary."
Dan started with us on March 30th and takes us up to 6 full time Laser Red team members.