13 Nov 2012
24 hour website challenge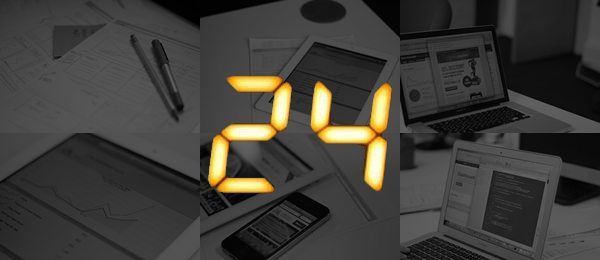 We started our new website well over a year ago but never seemed to have the time to finish it. Now we're going to try and complete it in 24 hours!
Our new website has been a tale of ups and downs. We'd go through phases of high creativity and motivation only to have to put the entire project on hold due to client work and other important commitments. Although we've had a cool looking holding page in place for nearly 18 months, not having a fully functional website is a big no no, so we've decided to do something drastic to get it sorted.
The idea came about during one of our weekly meetings in October.  We were discussing the problems with creating our new site and how long it would effectively take to finish with the full team working on it. Someone said something like 30 hours, meaning spread out over a number of days. However when one of the team said let's try and do it in 24 hours (1 day) that got us thinking. Not only would it be great to get the site completely finished so quickly it would also mean we could keep on schedule with our clients projects.
Obviously a 24 hour day is a lot longer than most of us are used to so here's the plan;
Start Thursday 29th November at 9am
Finish Friday 30th at 9am
The staff will then have Friday off as an extra days holiday to recover (we don't want any Monday morning zombies).
In theory this should work, although it will be tight. Allowing for two breakfasts, lunch, dinner and midnight snacks the total time we'll be working might be more like 20 hours. It's going to be tough. I think the biggest challenge will be to remain creative and focused in the early hours of Friday morning when we should be resting peacefully in our cosy beds.
We plan to record the challenge though our blog, with regular updates, pics and screen shots of where we are with the project. If all goes well we should have the full website up and running by Friday 30th 9.01am.
Wish us luck!
Addition: 27th November
As a result of this crazy project the office will be effectively closed for two days (Thurs – Fri). We'll be back to normal on Monday 3rd December.
In case of website emergencies please call 07913155688.